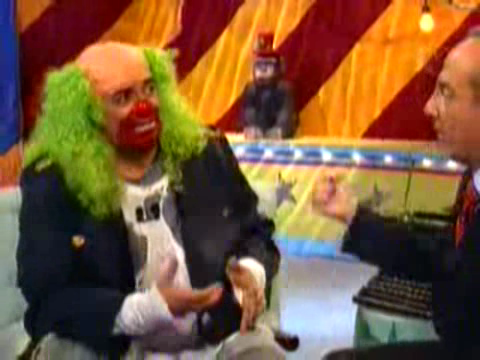 Above, Felipe Calderón of the PAN National Action Party is endorsed by — no, this is not a Simpsons episode — Brozo the Televisa Attack Interview Clown, 2006.
You can hold your nose and take the plunge — or hell, you can even thank goodness that your own workload is reduced by outsourcing certain content (been there, done that) — just so long as you make it clear to the reader who is who and what is what.
Last Friday, the Reforma daily of Mexico created a stir, publishing comments by presidential candidate Enrique Peña Nieto in which he reports spending  32 million pesos — some BRL 4.5 million  – for op-eds by significant news anchors and commentators.
See also:
- [São Paulo governor José] Serra paid the Abril publishing house R$ 34 million while in office.

A study based on the Official Diary of S. Paulo State shows that when José Serra occupied the governorshiop, he paid nearly BRL 34 million to the Grupo Abril, according to an April 29 report by the R7 news portal. The research was performed in 2010 by Altamiro Borges for the Correio do Brasil.
 Borges is a prominent Communist journalist whose work is featured in Vermelho, Carta Maior and Caros Amigos, among other outlets. In any event, it seems positive to me that this sort of data is obtainable from the Official Diary — a hairy experience for the database querier in the past. Suggestion: returning results of a query in PDF format rather than plain text is just plain evil.
But returning to Mexico.
Enrique Pena Nieto paid journalists for favorable propaganda

According to Opera Mundi, Reforma published sales orders by the candidate's state government  that revealed «informational support» services. The documents show payments to popular radio personalities as well as the cost of above-board official publicity.  (more…)
Filed under: Brazil | Leave a Comment »